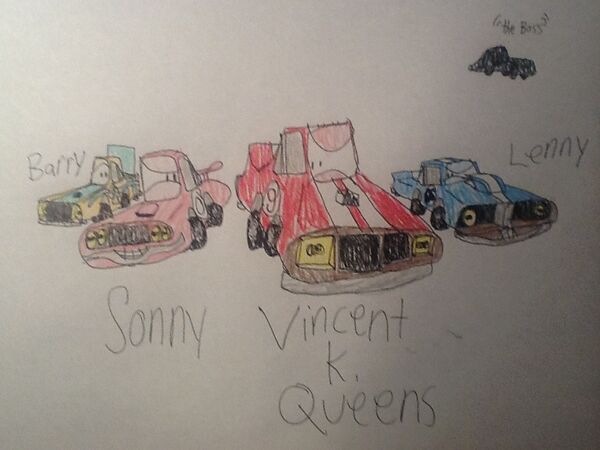 This is Superbaddy4's fanon wiki for a short about Vincent K. Queens and his gang, Barry D. Rustfender, Sonny N. TankerHorns, and Lenny Y. OilDrazzle. The idea was given up on 11/30/2015. This wikia is mostly used for keeping track of information and is currently considered "abandoned" (though checked often), but please feel free to contribute. Rather than being about racing as you'd think, it is about a method called the Tooth Trade. The short was to be named Vince and the 300000 Racketeers.
To read it out, view Storyline. View Discussion if you want to talk about it. Other links include Progress, Humanization, Characters, References, Scrapped Ideas, Name ideas, Quotes, Requirements, Video Game/Replacements, Alternative Storylines, and Sequels. Info involving Cars:IGNITE is also available.
Before posting any comments, please read Rules in Chat.
You can talk about other subjects on Forum.
I do not own any content in this short. The storyline belongs to Comedy Central and all the characters belong to Disney/Pixar and Nintendo.
Latest activity
Edit